2023 Speaker Bios
Chris Nowinski, PhD
Chronic Traumatic Encephalopathy: State of the Science

Dr. Chris Nowinski is CEO of the Concussion Legacy Foundation and a social entrepreneur leading a global conversation on concussions, chronic traumatic encephalopathy (CTE), and the future of sports. Sports Illustrated has said, "It is Nowinski's figure which looms behind the doctors and the headlines and the debate roiling over sports' newfound commitment to minimizing head trauma."
An All-Ivy Harvard football player-turned WWE professional wrestler-turned neuroscientist, Chris discovered the concussion crisis the hard way. A 2003 kick to the chin in a WWE match ended his career, causing Post-Concussion Syndrome and sending him to the office of his eventual Concussion Legacy Foundation co-founder, Dr. Robert Cantu. Through Dr. Cantu, Chris was first exposed to medical research that revealed to him that concussions and brain trauma were misunderstood in the sports world. Chris earned his doctorate in behavioral neuroscience from Boston University School of Medicine and has authored more than 30 scientific publications. Today he serves as an outreach, recruitment, education, and public policy leader for Boston University's CTE Center.
Jonathan Preszler, PhD
Concussion Clinical Management: Improving Recovery

Dr. Jonathan Preszler graduated from the University of North Dakota (UND) and completed his postgraduate education at Washington State University, specializing in neuropsychology. He interned at Children's Minnesota and subsequently completed his two-year fellowship at University of Pittsburgh Medical Center, where his primary clinical work and research was in the concussion program. After completing this fellowship in August 2022, he joined Sanford Health in Bismarck. His primary hobby is spending time with family.
Nan Kennelly, MS CCC-SLP
Executive Functioning Deconstructed Part 3: Initiation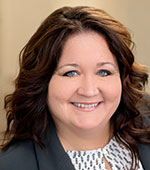 Nan Kennelly earned her master of science degree from UND in 1994. She has dedicated her career to the treatment of cognitive-communication disorders related to brain injury, stroke, and other neurological conditions. Nan has gained extensive experience and specialized training in the subacute, acute, inpatient rehabilitation, outpatient, and private practice settings. Currently, she is both owner and treating therapist at Onword Therapy.
Nan enjoys working with high-level cognitive and communication needs in individuals with mild traumatic brain injury, post-concussive symptoms, stroke, ADHD, and executive functioning challenges. She considers it an honor and privilege to help her patients get back to work/school/home and reach goals of higher function, independence, and efficiency. Nan is a regional leader both in brain injury and in her profession. She advocates for North Dakota residents and families living with brain injury.
Heidi Fiskness, MS CCC-SLP, CBIS
Executive Functioning Deconstructed Part 3: Initiation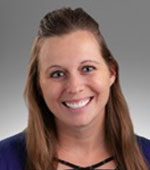 Heidi Fiskness obtained her bachelor of science degree in speech language hearing sciences and a bachelor of arts degree in Spanish in 2007, and her master of science degree in speech language pathology in 2009 from Minnesota State University Moorhead. Heidi has worked at the private practice, rehab, acute, and outpatient levels for children through adult ages. She currently works in outpatient services at Sanford Health. She provides evaluations of neurological diseases and appropriate intervention plans for her patients.
Heidi specializes in neurological rehabilitation, brain injury, swallowing, speech/language, aural rehabilitation, vocal cord dysfunction, and voice. Heidi holds certifications as a brain injury specialist, VitalStim Therapy, LSVT Loud, and SPEAK OUT! Heidi is a licensed speech-language pathologist in the states of Minnesota, North Dakota, and South Dakota, and with American Speech-Language-Hearing Association certification at the national level.
Megan Dooley, OTD, OTR/L, LSVT, CLIPP, CBIS, Skills2Care
Executive Functioning Deconstructed Part 3: Initiation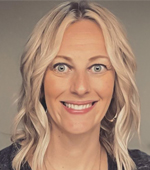 Dr. Megan Dooley is an occupational therapist and the owner of Innovative Therapy Solutions & Consulting LLC, a mobile outpatient clinic that serves people across their lifespan. She is a Certified Living in Place Professional and Certified Brain Injury Specialist and certified in LSVT Big, hippotherapy, and Skills2Care.
Her expertise includes working with caregivers of individuals with dementia, individuals with neurological conditions, home modifications, and leading community groups related to health and wellness for people with chronic illnesses. Megan truly believes that through collaboration and hard work, we can help individuals age in place while maintaining their highest quality of life.
Caitlin Synovec, OTD, OTR/L, BCMH
Brain Injury and Homelessness: The Importance of Screening and Identification

Dr. Caitlin Synovec is an occupational therapist with clinical experience in working with adults experiencing homelessness to improve quality of life and engagement in their preferred communities. Caitlin's expertise includes program development for collaborative and interdisciplinary care, as well as clinical education and training for healthcare and direct service providers.
Her work seeks to address the intersection of homelessness, poverty, traumatic brain injury, mental health, and chronic conditions, and their impact on health and community living. Most recently, she has joined the National Health Care for the Homeless Council as the senior program manager for medical respite to support expansion and best practices in medical respite care.
Rebecca Quinn, LMSW, CBIST
North Dakota Screening Update

Rebecca Quinn serves as an associate director for the Center for Rural Health within the UND School of Medicine & Health Sciences in Grand Forks. Rebecca manages the North Dakota Brain Injury Network (NDBIN), and the State Epidemiological Outcomes Workgroup project. She is also the principal investigator of the North Dakota Qualified Service Provider Hub.
Rebecca's past experiences include working in various settings, primarily in the healthcare field. She served as an adjunct professor in the Department of Social Work at UND, where she taught courses on gerontology and substance abuse. Rebecca is a licensed social worker and obtained her master of social work degree from the University of Texas at Arlington in May 2000 and her bachelor of arts degree from Texas A&M in 1997.
Carly Endres, MS, CBIST
North Dakota Screening Update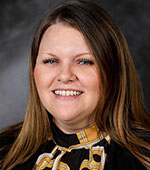 Carly Endres is a senior project coordinator for NDBIN at the Center for Rural Health within UND School of Medicine & Health Sciences. In this position, Carly works on developing, implementing, and managing program initiatives for NDBIN, as well as developing, promoting, and implementing NDBIN educational activities.
Carly previously worked with Grand Forks Public Schools as a special education strategist in the Intellectual Disabilities Program at Schroeder Middle School. Originally from Grand Forks, North Dakota, Carly earned a bachelor of science in elementary education and master's degree in special education at UND. In July 2019, she became a Certified Brain Injury Specialist. She is currently pursuing a doctorate in educational practice and leadership with a specialization in special education at UND.