Survivor Connections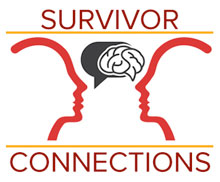 Survivor Connections is a support system set up through monthly phone calls between an experienced survivor, a new survivor, and a resource facilitator. It offers an opportunity to provide each other with support, resources, and education.

How to Connect
Survivors can sign up through the NDBIN referral form or contact NDBIN for more information.
An experienced survivor and Nickie Livedalen, NDBIN's resource facilitator, will make monthly calls to the new survivor.
The new survivor receives support, resources, and education to aid in their successful recovery.
For More Information
Nickie Livedalen, Resource Facilitator
North Dakota Brain Injury Network
nicole.livedalen@UND.edu • (701) 317-4172