Who Cares for the Caregivers?
Reprinted with permission from: NDSU Extension - Grand Forks County — November 2021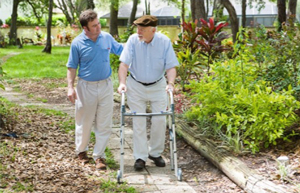 The vast majority of older North Dakotans want to continue living in their homes as they age. In 2017, North Dakota had 68,000 family caregivers who provided 57 million hours of unpaid care, valued at $980 million. These family caregivers provide a range of daily activities, such as transportation, personal care, managing finances, grocery shopping, and much more.
"Caregiving can be a rewarding experience," said Carly Endres, senior project coordinator at the North Dakota Brain Injury Network (NDBIN), "but it can also be filled with enormous challenges, such as time commitment, competing demands, financial implications, and physical and mental stress."
Carly continued, "Some common symptoms of caregiver stress are depression, withdrawal, insomnia, trouble concentrating, anger, health issues, exhaustion, anxiety, drinking, smoking, and altered eating habits. Many caregivers have no idea what to do, how to do it, or where to get help. This dilemma makes family caregivers vulnerable themselves."
"It is essential for caregivers to maintain their own health and well-being while managing caregiving responsibilities," says Nicole Livedalen, resource facilitator at NDBIN. "Yet, most caregivers receive little or no training to care for themselves."
Powerful Tools for Caregivers (PTC) Program
The PTC Program is a national evidence-based program that was brought to the state by the North Dakota State University (NDSU) Extension. The program is designed to help family caregivers to take better care of themselves and feel more confident in their ability to care for their family members. NDSU Extension offers the PTC program through extensive partnerships with local organizations.

NDSU Extension family and community wellness agents, along with community professionals across the state, have been trained as class leaders to offer six-week workshops to two audiences: family caregivers, caring for adults with chronic illness, and family caregivers of children with special needs. The workshops are offered both as in-person and virtual/online classes.
In the six weekly classes, caregivers develop a wealth of self-care tools to reduce personal stress, change negative self-talk, communicate their needs to family members and healthcare or service providers, communicate more effectively in challenging situations, recognize the messages in their emotions, deal with difficult feelings, make tough caregiving decisions, and locate helpful resources.
"Caregivers need to focus on their own needs and desires and practice self-care," said Carly. "Doing so will allow them to continue the important job of caregiving."
Some respite care programs in the state recognize the importance of this training and are offering additional respite care hours to family caregivers who attend a PTC workshop.
For further information on the PTC program, send an email to Carly Endres or call (701) 777-8004.
Find a PTC Class
To find a schedule of PTC classes, visit the North Dakota Community Clinical Collaborative.
PTC Class Leader Training
Another way to help family caregivers is to become trained to co-lead PTC workshops. The next PTC class leader training will be offered virtually via Zoom:
March 7-11
8:30 am - 11:30 am Central
This integrated training will equip class leaders to co-lead programs for two target audiences: caregivers of adults with chronic conditions, and caregivers of children with special health and behavioral needs. Contact Jane Strommen, NDSU gerontology specialist, for information about the class leader training.
A grant through the North Dakota Department of Human Services, Division of Aging Services makes it possible to offer classes free of charge to family caregivers and to waive customary registration fees for those interested in becoming trained as class leaders.
---
Sources