Concussion & Fall Sports
As we return to school, it is important to keep in mind safety when returning to play our favorite fall sports. Concussion falls into the category of a mild traumatic brain injury (mTBI) and traumatic brain injuries (TBI). These are the second leading cause of death and disability among children and teens, according to the Center for Disease Control and Prevention (CDC) Report to Congress: Traumatic Brain Injury in the United States.
Initial Steps
Many of these brain injuries are preventable and often, if proper protective equipment is worn and rules are followed, players should be "in the clear." For those that do experience a concussion, there are many resources the North Dakota Brain Injury Network (NDBIN) has to offer. What should happen if it is suspected that an athlete has a concussion? According to the CDC TBI Data, the individual should be removed from play.
The individual should be evaluated by a healthcare professional with experience in concussion treatment. Inform parents or guardians and keep the athlete out of play until he/she is evaluated. This information sheet from the CDC should be given to coaches and parents until further guidance can be given by a professional experienced in evaluating concussion. It is important to remember it is better to miss one game, rather than the whole season.
Concussion Maintenance
The main point NDBIN wants people to understand is that a concussion sustained at any point in an individual's life should resolve itself within four weeks, with good concussion maintenance. What does good concussion maintenance look like?
A reasonable amount of rest, followed by a measured increase in home and school activities, as long as symptoms are not exacerbated by these activities. NDBIN provides a Common Academic Accommodations Following a Concussion infographic that gives examples of how to pace workload reduction at school for those four weeks following sustaining a concussion.
REAP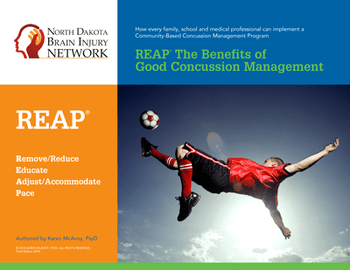 NDBIN also provides a community-based concussion management program that can be very helpful for families and school teams struggling with concussion management called REAP. R is for Remove/Reduce, E for Educate, A for Adjust/Accommodate, and P for Pace. We want you to be able to REAP the benefits of good concussion management by taking a team approach to concussion management.
This guide, created by Karen McAvoy, is colored-coded by each team involved within the athlete's care. The Family team, School team (physical), School team (academic), and Medical team should all be "at the table" when it comes to determining the best plan of action for the concussed athlete. This team approach can help to ensure that no area is overlooked for the athlete.
Additional Resources
NDBIN can be contacted as initial injuries occur, but we want to be looped in when a concussion does not resolve itself within four weeks. At that point, other therapy options need to be explored. The brain is so complex that it does not warrant going into details on all therapy options for the purposes of this article, but NDBIN is more than happy to help walk through these options on a case-by-case basis.
If you have not utilized us before, NDBIN provides information and support to individuals with brain injury, their family members, and various service providers and agencies. The resource facilitator assists with navigating the service system and provides technical assistance in finding the right resources for each individual. NDBIN offers outreach and education to increase public awareness of brain injury, as well as peer support by connecting people with others who have experienced a brain injury. NDBIN can provide onsite training to facilities and organizations as well. All services are FREE.
Questions?
We encourage individuals with questions on concussion to explore our website or contact our Resource Facilitator Nickie Livedalen at: (855) 866-1884 or email info@ndbin.org. We want everyone to have a safe fall as we return to sports, but we are here for help today and hope tomorrow!