Bertha Jean "Skipp" Miller Advocates for Brain Injury Survivors: Part 2
This is Part 2 of 3. Read Part 1
Abuse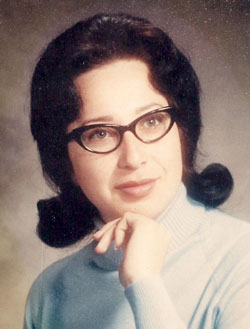 Her first significant relationship began in Everett, at the age of 23, with Bob. Similar to her parent's relationship, alcohol and abuse were prevalent. She stayed with Bob for over two years, during which her daughter was born. Skipp and Bob moved to Berthoud, Colorado, and had "no communication between us, we just existed, day to day."
Upon hearing her grandfather was ill, Skipp brought her daughter to visit the family in Williston, North Dakota. Her grandparents brought her back to Bob, but found he was in a relationship with another woman, so they separated. Skipp lived as a single working mother, holding a job at a dry cleaners. Bob returned one day, and Skipp said she wanted a divorce. They had not been legally married, but by Colorado law, they were considered to have a common law marriage. Bob hit her and broke her nose. The hospital released her into his care. The next day Bob left, and she never saw him again, though she feared he would return and take her baby girl.
Skipp got a good job working at the IBM plant in Loveland, Colorado, putting personal computer boards together. Despite the good wages, she did not like the work. Soldering and placing the wires was very exact and detailed work. She met a new friend and many weekends were spend at local bars or in Denver, Colorado, dancing and drinking. She began missing work and was let go from IBM. Unable to collect child support from Bob, Skipp went on welfare and fell into a deep depression.
Skipp and her daughter moved to Denver, made a few friends, and started school at an Indian center and worked on obtaining her GED, since she never finished school beyond 8th grade. She discovered she possessed a skill for typing and secretarial work and could type 80 words per minute (wpm) on a typewriter. To practice, she would listen to records and type the song lyrics, keeping up with the music. When the Indian center brought in an IBM computer, she was able to type 100 wpm. Eventually she noticed her typing and secretarial skills would begin to slow down.
Then she met her next significant relationship, Frank. After she gave birth to their son, she found out he was abusive when he drank alcohol. Again, their relationship mirrored her parents. She took her daughter and newborn son and moved into low-income housing in downtown Denver. One evening Frank appeared and began hitting her with his fists. A friend called 911. The hospital wanted to operate on her face, but it was too swollen. The left side of her face was smashed in. Once the swelling reduced, they were able to reform her cheekbones, her nose was completely shattered, and her orbital sockets were broken.
When Frank tried to visit Skipp in the hospital, she stood up for herself and said "no". She took her children and moved back to North Dakota to be with her grandmother. Frank was caught by police, as he had threatened to kill her, and she was called to testify. A victim's advocate went to the trial with a terrified Skipp. Only able to go off the police report, he was charged with assault and battery and served 30 days in jail. Read Part 3 in the Spring issue.